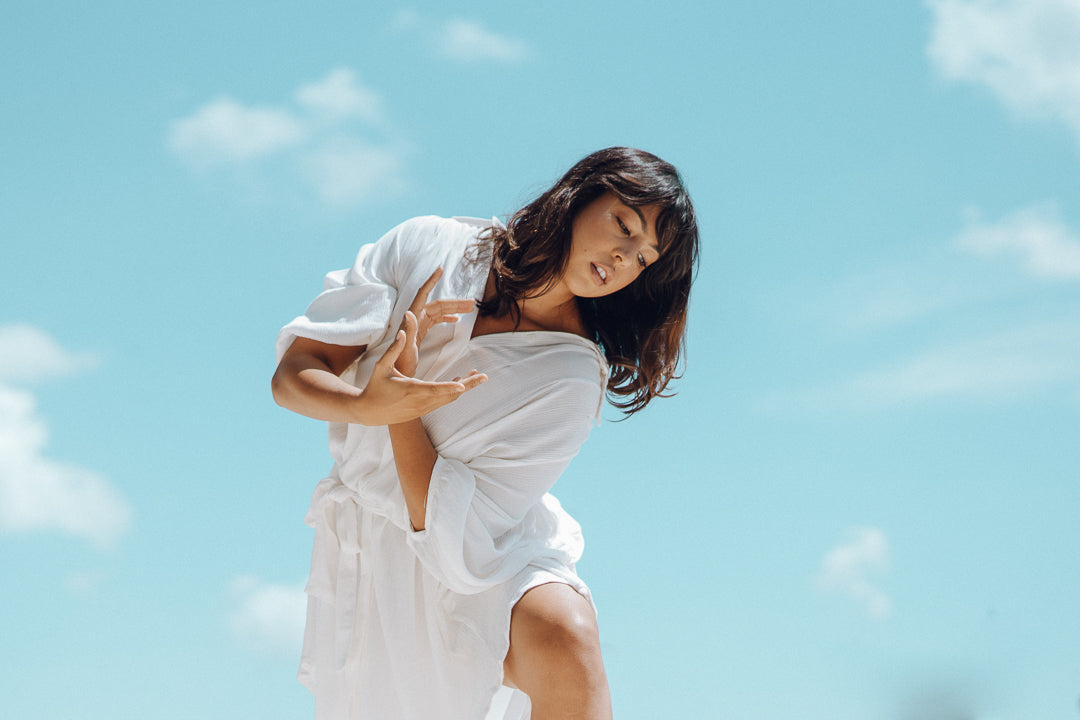 New Moon in Leo August 18th Musings, Be the Alchemist, Stay true to your light
Hello beautiful souls, Myrah here.
That photo above is our new Virgo Kaftan in white! It's been one of my favorite pieces for the summer. The perfect beach cover and something you can wear at home to feel elegant and comfortable.  Available here.
New Moon in Leo is coming August 18-19th. 
August is the 8th month of the year which is auspicious.
The Infinity number 8 is powerful because it's about consistent, eternal expansion.
Leo is about Love, Celebration, Fun, Being Child Like. During this New Moon be ready to embrace the unexpected.. Leo will fill you with playful, celebratory energy.  The change that Leo brings is that it will align your heart and mind.  Leo is the royal sign. 
Leo is all about creative process.
This new moon is a call for you to act on your creative projects.
Remember, Leo has to be lit up from within to take action. So the question is what lights you up? What ignites your soul?  What gives you that giddy joy?
If you are discovering that you need to change pace, change gears, be patient and allow your heart to be awake in the process of creativity that Leo will surely bring. 
We all have ideas that are arising for us... New Moon in Leo is a really good time to synchronize the heart (Leo) and mind (moon) energy.  Your thoughts will move very fast and you want to explore what's coming into your mind. So plan to give yourself space during this time.
On New Moons, Slow Down.
Plan on slowing life down so that you can actually experience the inspirations and creativity that is arising and bring it into the earth plane from your dream state. 
We have this incredible sense of moving forward. We don't want to get emotionally attached to all of this movement. Use this new moon to be enterprising. To gain independence from the thinking that has kept you back, now you will see alternative ideas, inspirations and we are acclimating to light and love over fear and conflict.  
It is truly an exciting time and it is a time to embrace the entrepreneur with you to awaken. Share your gifts, share your ideas and bring them to the world. 
Remember that you were born to be on this planet at this time. And you arrived because you felt responsibility to be here during this transformative moment for humanity. 
If you feel yourself being a little out of alignment or in old patterns, take a deep breath, exercise and move your energy and you will move out of it quickly.
You need to channel your passion into something that requires you to be creative, and concentrate on making this come to life for you. 
Be the Alchemist
No matter how crazy the world seems, you will be supported and you will make it through as long as you stay true to your light. 
If you feel negativity come into your life, immediately transform it, alchemize it into curiosity and understand that everything that shows up in terms of contrast is here to show us the way back to our higher selves. 
I could go on and on, but it's a new day and I want you to get out and get into nature, put your feet on the earth and connect. 
Lead your life with joy and be open to fully receive this moment.