Empowering Women with Lana Nazar
Satnam Loves, 
Today we are beyond excited to share about a dear friend Lana Nazar who has really taken charge the past few years to do whatever she can to empower women.
She is the founder of Karama Yoga & Wellness Studio in Jeddah, Saudi Arabia. Her love for the practise of all forms of yoga and Kundalini Yoga is contagious, her joy and smile will leave you inspired to give it a try. 
KARAMA is a unique Yoga & Wellness studio located in Jeddah, Saudi Arabia. KARAMA is the respect an individual has for themselves that is achieved by honoring their highest selves and mirroring that through their actions in this world.
In KARAMA we believe "You are sacred, you are worthy, you are enough". Karama first opened three years ago and has been successfully growing and expanding ever since. Our focus is to promote wellness and healthy lifestyles through yoga & community gatherings as well as offer a sacred and safe space, where all women feel included and empowered.
Lana's Bio
Influenced by my mother, I was exposed to yoga at a very young age. By the time I was 15, I started committing to my roots and dedicating my time to practice yoga. While in university, yoga fully manifested my lifestyle.
By 24 I became a yoga teacher, moved back to Saudi from North America, and opened up one of the first yoga studios in Saudi Arabia.
My other passion is herbalism. I am also a certified herbalist and the co-founder of the first local organic herbal tea shop in Saudi Arabia, Karama Wellness Teas. I believe my purpose is to transform and elevate the idea of a woman in the Middle East.
What are you excited about right now?
I have been dreaming about making KARAMA everyone's go to studio. From our services, to our community events, retail wellness shop, customer service and the way we care about each person who walks through our doors.  
I am over the moon excited to DREAM BIG this year and manifest all that I've imagined. This year, we are running our first yoga retreat in Sri Lanka, offering our first yoga 200hr teacher training, and presenting weekly workshops from inspiring community members from all over the Middle East.
To imagine that I would grow from being the only teacher at my studio for 3 years to a team of 9 incredible teachers and staff fills me with pure excitement and joy!
I am blessed to now have an extraordinary group of women as part of KARAMA who offer an extraordinary amount of talent and knowledge. In this past few months, KARAMA's growth has already exceeded everyone's expectations and the best is yet to come! I cannot wait to see what else this year unfolds for us.
What inspired you to become a studio owner (how you serve humanity right now)?
Growing up in Saudi and studying women & gender studies in university in Canada, I wanted to create a place where women could thrive. I had seen the prevalent lack of confidence and self-doubt women grew up with in our culture.
My mother is my biggest inspiration. She's a yogi, an ironman athlete, a professor, and a dentist. She went against all of the preconceived notions of what women could do. She taught me a fundamental teaching. Nothing is impossible; you can do it all, just commit and trust.
After I graduated from university in 2014, I moved to the US and enrolled in a yoga teacher training. At that time, I only knew 2 teachers in my town, both were teaching out of their home. I felt inspired by what they were doing but I felt we needed a center. I had just gotten married; my in-laws were kind enough to gift me part of their home to turn into a yoga studio. I was thrilled! So at the age of 25, in February 2015, KARAMA was born. 
At that time, yoga was still not legalized in our country but I felt like I was craving a sense of empowerment. I knew that women in my city needed a transformative physical, emotional, and mental practice more than ever. It was time for a shift. A time for me, for us, to find our souls, fall deeply in love with ourselves, and to connect to our birthright to be consciously empowered radiant women. 
Nowadays, there has been a major shift in our country's consciousness and everything is moving towards giving women more rights. So our goal is that when women come to KARAMA, they feel at home. They know it's a nurturing and welcoming space where they can get inspired, elevated, and connect with each other.
 What's your major challenge right now and what are you doing to overcome it?
 My major challenge is lack of resources. As I keep growing my expectations and dreams for KARAMA, I realize how exhausting it is to always have to seek outwards to find resources in order to make these dreams a reality.
What makes KARAMA different from other yoga studios in the Kingdom is our drive to maintain international standards and create the best customer experience possible.
Because yoga is so new to Saudi Arabia, there is definitely a lack of resources.
Its extremely challenging finding anything related to yoga including certified yoga teachers, teacher trainings, retreats, workshops, etc.
All those reasons lead me to think that this is not necessarily a challenge; it's actually a blessing. I believe my purpose is to create that kind of accessibility for my community through creating our own teacher trainings, mentorship programs, retreats, and workshops. Now is the time so fully embrace our potential as a studio!
What's one daily ritual you are practising right now?

 For the past year, I found a beautiful balance through having a steady personal practice, my morning Sadhana.
Before the sun rises I wake up, take a cold shower, light up my incense, wear my radiant kundalini gown, and walk up the stairs to my studio where a group of us meditate, move, and chant together from 5-7am.
It's a place for us to begin each day by aligning with our inner self, setting an intention, clearing our consciousness, strengthening our nervous system, and surrendering our ego through yoga & meditation. We end our practice feeling alert, graceful, focused, and inspired!
How can the community support you right now?
 I'd love some recommendations on visiting instructors who are willing to come to KARAMA for a period of time to teach, offer teacher trainings, and help with our mentorship programs. I would also like more love on our instagram page as it's our only form of marketing so far J
What's one service we could feature for you, that would be helpful for your business/projects?
 Our KARAMA Yoga Retreats as it's a chance for women from the Middle East to connect with beautiful radiant women from all over the world.
Where can people find you?
Instagram: @KaramaStudio & @KaramaTeas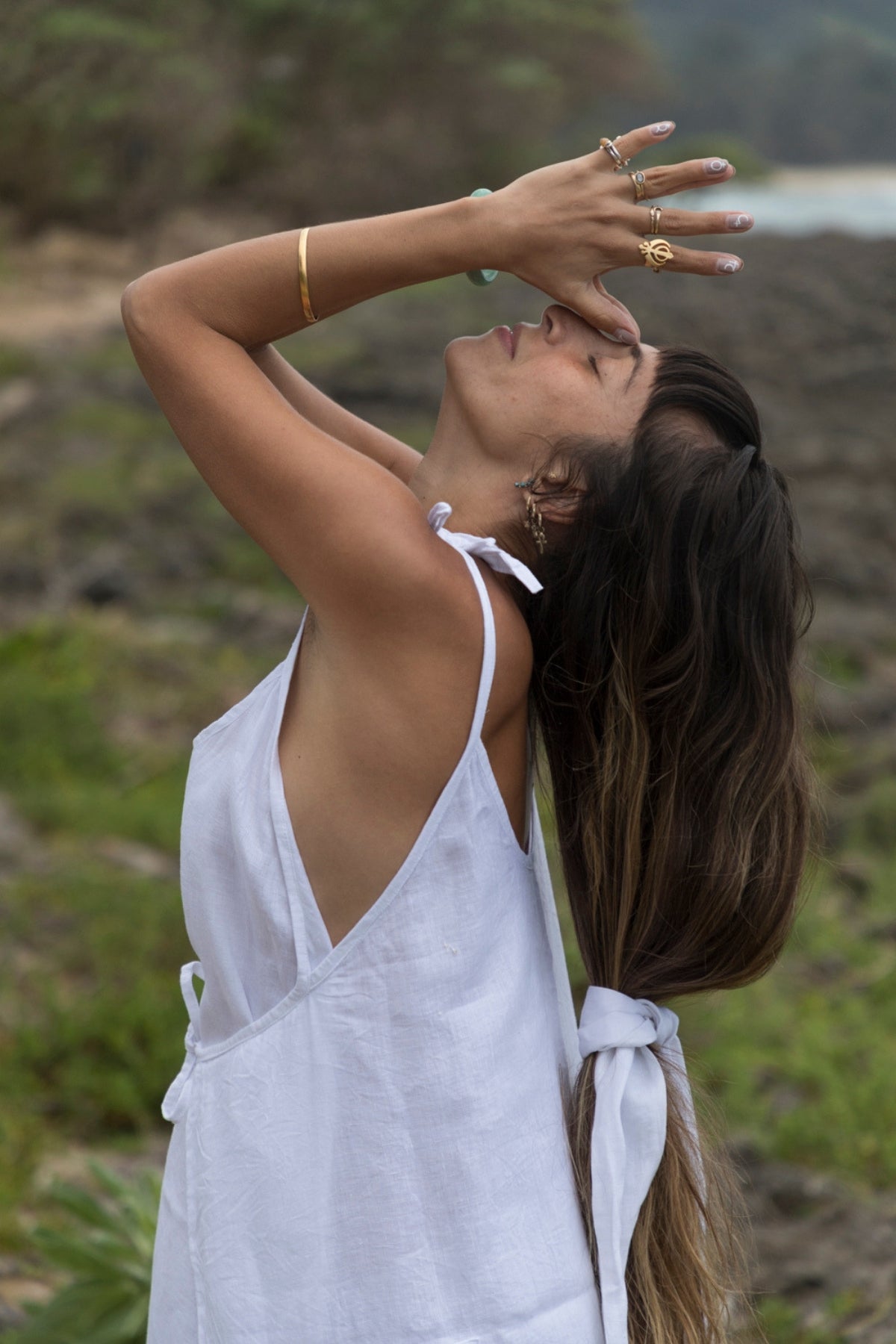 Healing and Fashion Pt.1 Linen Fabric
As someone who has been dealing with postpartum thyroid issues, I have personally been looking everywhere for causes and healing.  As per usual, in life.. the answer was already in front of me. As ...
Read more