Lucky Bangles (100% Gold Filled Recycled Plastic)
Introducing the Lucky Bangles. Light as a feather! Waterproof - lotion proof - massage proof. 
Myrah has been wearing 2 sets of these for the past few months and hasn't taken them off, they really go perfectly with the Kundalini Gown Collection.
Wear them on your charmed arms and never take them off ! 
Available in two sizes (Most people need Medium) 
Each set comes with 5 bangles. 
The Gypsy Belle Lucky Gold Bangles contain 22k gold leaf powder fallen from the collective prayers of countless individuals collected all over the temples of South East Asia. And kept in recycled plastic bangles so you may wear them always. No worry of tarnish or fading. 
Gold leaf appears everywhere throughout the Buddhist temples of South East Asia. Step inside most temples and you will find locals lined up to press down small squares of gold leaf on the Buddha sculptures as offerings as they pray. 
As the Gold leaf squares are pressed onto the statues, bits of the 22k gold fall like a fine dust - powder around the sculpture's base, this 22k gold powder is periodically and carefully collected by the Monks. It is blessed gold powder falling from these many prayers made that is collected here in these Gypsy Belles bangles as a reminder of a collective human consciousness that shines in all of us as bright as the Sun ... 
INTENTION: May the sacred gold metaphysically raise your vibration to attract abundance and wisdom. May the prayers protect you and give you altitude.
Sat Nam, 
M
Sizes:
MEDIUM - 2.5 INCHES / 6CM (MOST POPULAR SIZE )
LARGE - 2.75 INCHES / 7CM
Materials: Plastic, Filled with Gold Leaf Squares/Powder from Buddhist Monks.
Update
At this time, due to current world events we are unable to ship to PO boxes. 
Processing Time
We receive a high volume of community communications, which we love! So, we kindly ask that you email our customer support team only if you have an urgent shipping inquiry or if we have surpassed the timeframe outlined below.
All orders will be prepared for shipping within 14 days.
Tracking information will be sent to you via email within 5 days after your order has shipped.
Delivery Estimates (From the Day Your Order is Shipped)
Once shipped, typical delivery time can range from 10-15 business days depending on the ship-to address and other variables.
The shipping of any physical goods is processed through our internal team fulfillment centre. We make no promise or guarantee (expressed or implied) as to the time of your product delivery.
Tracking
We offer complimentary tracking with every order.
Please use www.17track.net/en to track your package.
Once you receive notification that you order has shipped, please contact the final destination carrier directly for any shipping inquires. This information is located at the top of the 17track page.
Shipping Fees
US + CAN

Standard with tracking (10-15 business days)
Orders under $250 – $22
Orders under $500 – $12
Orders above $500.00 – FREE
AU + NZ
Standard with tracking (10-15 business days)
Orders under $250 – $28
Orders under $500 – $18
Orders above $500.00 – FREE
UK + W. EUROPE
Standard with tracking (10-15 business days)
Orders under $500 – $28
Orders above $500.00 – FREE
ASIA
Standard with tracking (10-15 business days)
Orders under $500 – $28
Orders above $500.00 – FREE
REST OF THE WORLD
Standard with tracking (10-15 business days)
Orders under $500 – $38
Orders above $500.00 – FREE
Duty
At this time the majority of styles are shipped from Bali. Duty, if applicable, is the customer's responsibility and will be paid directly to the carrier.
Thank you for your purchase!
We are pleased to accept timely exchanges of unused, unworn, unwashed, unaltered and undamaged items with original tags on the product within 10 days from the date you received your order.*
To be eligible for an exchange, items must be in the original packaging, including; any boxes, hangers, garment bags, and other signature packaging materials.
At this time, purchases are eligible for exchange or store credit only.
*Myrahpenaloza.com reserves the right to reject exchanges that are sent or communicated outside of the exchange period limit; items which are not in the same condition in which they were received; or exchange parcels that incur duty.
Exclusions
Customized items are final sale.
Items purchased with store credit are final sale.
Items received as an exchange are final sale.
Sale items are final sale.
How do I set up an exchange?
Please email support@myrahpenaloza.com with the subject "Start an Exchange" and your order number in the subject line.
Please do not contact us via social media for exchanges. Our social media team is separate from customer support team.
How long do I have to make an exchange?
All exchanges must be made within 10 days of receipt. Please, make sure your items are returned new, unused and with all garment tags still attached.  
I received a damaged item, what should I do?
We're so sorry to hear your order arrived in less than perfect condition! In the unlikely event that you receive a damaged or incorrect item, please email support@myrahpenaloza.com with the subject "Start an Exchange" and your order number in the subject line.
Damaged items must be reported within 10 days of receipt. 
MODIFICATIONS / CANCELLATIONS
If you have made an error in your order, or wish to cancel, please email support@myrahpenaloza.com within 48 hours so we can inform our team of the requested changes. We are not able to oblige modification / cancellation requests made outside of the 48 hour time frame.
Customer Reviews
08/03/2020
Jen H.
United States
Lovely!
These wear well! I love them. I'm hopeful that they will stand the test of time.
07/29/2020
David R.
United States
07/24/2020
Rashida A.
United States
Spiritual swag for the dynamic millennial
Although I was hesitant to buy plastic adornments, I do appreciate how these bangles are light-weight and have enough gold to really shimmer and look great against my skin tone; I also appreciate how they easily coordinate with a variety of different styles, giving a fresh pop of effortless gorgeousness to any outfit. The bangles sent are of differing thicknesses - I happen to like the variation but I can see for those who like uniformity in their aesthetic they may not expect that a set of bangles may not be all the same thickness. There is a visible seam on each of them and I am concerned that one day they may open up; I do occasionally get gold dust on my skin when wearing them which I don't mind but it may be indicative of a loose seal. Overall I'm pleased with my purchase and I intend they last a long time as they are a favored go-to accessory for adding that pop of spiritual bling that is equal parts goddess, glam, eco, and elevated.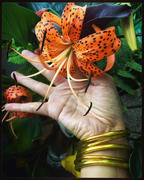 07/14/2020
Suzanne W.
United States
07/12/2020
Mari
Italy
Lucky Bangles
The bracelets are shiny and beautiful but in my opinion too expensive for a recycled plastic tube with gold dust inside.